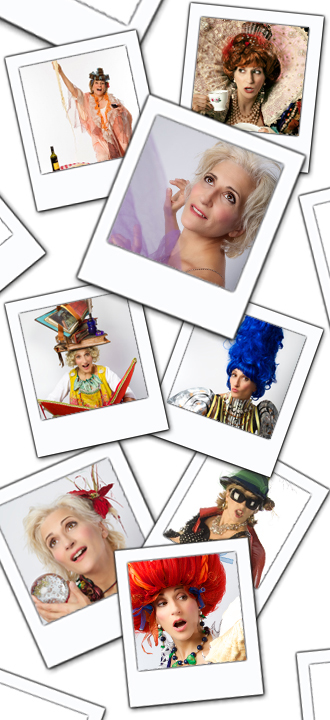 Natalie Choquette is a multilingual soprano unlike any other. For over twenty years, she has been wonderfully combining her formidable sense of humour with opera. Gifted with a beautiful voice, she transforms into comical and excessive divas, performing a spectacular harmony of laughter and emotions.
Born in Tokyo, daughter of diplomats, Natalie Choquette began her voice training at age 15 with André-Paul Bourret in Montréal, then in Moscow with Viviela Gromova. Back in Montréal, she obtains her Bachelor in music and a second one in performance from Université de Montréal where she studies with Roland Richard. An avid an perfectionist learner, she continues her training as a singer with Jeanine Lachance and Lucette Tremblay.
The Diva and her divas
The creation of her first comical diva in 1993, La Fettucini, garnered immediate enthusiasm and rave reviews by media and audiences alike. She gave a whole new meaning to the word « diva », contributing to making lyrical art more accessible while retaining its authenticity and prestige.
An international diva
Natalie Choquette pursues a successful international career, cumulating several concerts, shows and tours. She graces Québec and international stages, with applauses from Montréal to the prestigious Konzert Haus in Vienna, as well as in the United-States and several other countries in Europe, Asia, Latin America and the Arabian Peninsula. Over two million spectators in all corners of the world have been seduced by this exceptional Québec artist, who still captivates her audiences with her fantasies and her extraordinary voice.
Among her most recent shows, let us mention Diva by Night, performed at the Opéra de Nice, France; the America Tour Night of the Proms 2014 and La Diva Malbouffa with over 500 representations to young audiences in Canada, France and Russia. Natalie Choquette and her excentric Mimi are pursuing their crusade to instill healthy life habits with children with the presentation of the second show in the series, La Diva Malbouffa 2 – Kakophonia.
Recordings
The « Québec Diva » recorded over a dozen albums, namely the La « Diva québécoise » a Æterna trilogy, raising over $30,000 for the Québec Cancer Research Foundation. Her discography includes DVDs, among which a 2006 recording with the Montréal Symphony Orchestra and Maestro Charles Dutoit. In her most recent recording, Natalie Choquette plays the role of Mimi, La Diva Malbouffa who shares her passion for opera with children.
A literary artist
In addition to performing on stage, Natalie Choquette also made her mark in the literary world. Children's author, she initiates young readers to a world of imaginary journeys where pleasure and learning waltz with words and music. She is also the artistic director of a collection of books-albums for Dominique et compagnie.
A woman of heart and passion
Generous and socially engaged, Natalie Choquette regularly lends her voice to causes dear to her. Alone or in collaboration with others, surrounded by amateur chorists or the greatest names of the local and international musical scene, all of the Diva's concerts, in addition to being luminous, carry a message of hope, solidarity and peace
The creative source of Natalie Choquette seems infinite. She is currently pursuing other artistic projects, all of them surpassing the limits of originality…